Businesses of all sizes and industries have recently started shifting towards solar investments because of their financial and environmental advantages. You should get necessary facility-related advice from your solar developer if you want to look into the possibilities of a commercial rooftop solar installation for your business.
Rooftop solar setup for businesses is known as commercial solar. Commercial rooftop solar covers a wide range of rare projects and client types. Customers for commercial solar systems can range in size from neighborhood small businesses to huge corporations to charitable organizations, universities, schools, and even governments.
The first stage is determining whether the building is technically suitable for PV to facilitate further decision-making. The concerns for installing rooftop commercial solar include roof orientation, shade, space requirements, structural requirements, load/power factors, utility hookups, and other necessary factors.
What is Rooftop Commercial Solar Installation?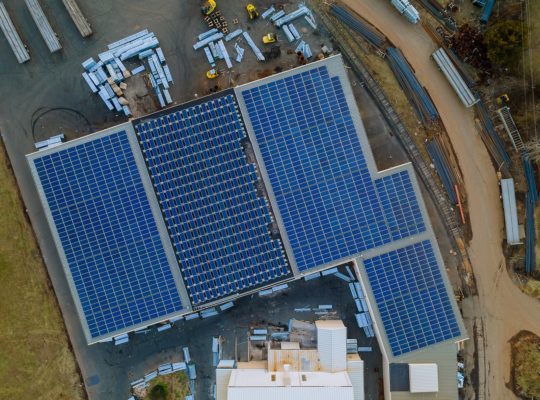 Rooftop commercial solar is a photovoltaic system that uses solar panels on a building's roof to generate electricity. The many parts of such a system include photovoltaic modules, wires, solar inverters, mounting systems, and other electrical accessories.
Rooftop solar power installations are smaller than megawatt-scale PV power plants on the ground. Buildings often feature rooftop PV systems with a capacity of 5 to 20 kilowatts. But commercial buildings have a combined power output of at least 100 kW.
Factors to Consider Before Installing Commercial Rooftop Solar
As part of the technical evaluation, business owners need to consider energy storage for the structure. Energy storage can fulfill backup power, energy cost management, and power quality management. Here are a few factors you should consider before installing a commercial rooftop solar system for your business.
1.     Condition of Your Roof
One of the most crucial considerations for roof-mounted solar arrays when deciding whether to go solar is the roof's condition.
While not all systems are equal, photovoltaic systems are built to last for at least 30 years. If the roof of your building needs to be rebuilt, it may significantly impact the return on investment of your system before the solar system is fully operational.
If the roof of your building is in bad shape, you can think about replacing it entirely, which goes well with a new solar power system. It's a fantastic chance to renew the roofing system and validate the validity of the guarantee. You can also replace the portion of the roof directly below the solar panel.
2.     Impact of Solar Installation on Your Roof
If built properly, a rooftop PV shouldn't have a detrimental impact on the roof. The major worries business owners usually have about commercial rooftop PV systems are the potential effects that PV can have on building permits, business operations, and roof warranties. However, these risks can be reduced or removed, as explained below.
You should get reputable solar providers to design and install your rooftop PV systems. Although national certificates are not necessary for PV designers and installers, you can confirm your installers from a certification board nearby.
PV system doesn't impact the drainage and other rooftop systems of your building. A reputable PV provider evaluates the current rooftop equipment and roof drainage routes, design the system to ensure that it does not affect drainage, and provide access to all rooftop systems for proper maintenance.
3.     How are PV Panels attached to the Roof?
There are two popular methods for putting PV systems on the roofs of business buildings:
It mounts PV systems on any roof using hardware that penetrates the roof. There are various varieties of attached racking systems for various uses. The PV system design, regional building codes, and roof structure will all impact how many roof penetrations are necessary.
It secures PV systems on flat roofs using substantial weights, usually concrete blocks. These ballasted systems require thorough technical studies and evaluations to verify that the system's difficulties with wind and dead loading have been adequately handled.
4.     The infrastructure of Your Electricity
PV solar systems provide electricity that needs to be integrated into the electrical system of your building. Often a facility's electrical infrastructure is inadequate to sustain the intended system, too challenging to connect, or too outdated to connect to without requiring significant alterations.
You must consider installing solar power if your facility's electrical equipment has to be replaced because it's outdated. Solar energy can be incorporated into the new machinery to significantly reduce costs.
5.     Does It Allow Firefighters to Put Out A Fire?
Reputable PV businesses must design PV systems in compliance with the 2015 International Fire Code's regulations, which call for open space at roof edges and peaks for firefighter access. Most solar panel installers also present their designs for PV systems to the local fire department for approval.
6.     Who Is Accountable For Roof'sWarranty And Adherence To Building Codes?
The solar provider will design and install the PV system following the necessary building requirements. A reputable solar installer gets in touch with the original roof manufacturer to confirm that installing a PV system does not compromise the maintenance of the roof designer and warranty obligations.
Additionally, the roof designer verifies the PV system after installation to ensure that it complies with the approved design and that the roof guarantee is still valid. The guarantee offered by the solar installer will apply if any damage to the roof occurs during installation. Before installing a rooftop solar system, reputable solar providers offer a reasonable workmanship warranty.
7.     Structure of Your Facility
Roof-mounted solar arrays place additional loads on the roof structure. Hence the building's framework must be strong enough to sustain this weight. Engineering information from racking manufacturers is used to compute loads and local and state code requirements.
Coldwell Solar cooperates with licensed structural engineers to verify the roof's load-bearing capacity. If necessary and practical, they also offer structural upgrades that would enable the installation of solar arrays.
There are ways to improve the structure; it depends on how cost-effective those approaches are and what the client values most.
8.     Future Facility Plans
Solar power is a valuable resource that is often sized and created specifically for the features of your company. Consider any potential improvements you plan to make to your facility when installing a solar system.
For instance, the solar system should extend your facility's footprint in terms of infrastructure design and capacity, equipment placement, and other factors. The load on a facility can also be altered. You can have plans to increase automation, change the timing of loads, or even alter a facility's purpose.
Be careful to let your developer know about them when contemplating solar because they are all essential considerations in determining the size of solar arrays. Facilities come in all shapes and sizes, but a competent solar developer can easily help you assess your facility and create a thorough plan securely and affordably deploy solar.
Expect your solar developer to include those expenditures in the ROI calculation for the solar PV project if recommended facilities need modifications.
9.     Load Profile
Depending on local utility laws, the PV solar system at your site will be sized to reduce the quantity of energy exported to the utility grid. This is accomplished by matching the facility's load profile to the solar output profile by minute, day, and month and when and how much power you use.
Your facility is ideal for solar if it consumes most of its energy during the daytime when output is at its peak. However, as it wouldn't be directly offsetting energy, the size of the PV solar system could need to be adjusted if you generate all of your electricity in the early morning or late at night.
The rate schedules and utility policy are essential in all of this. Some regulations are so supportive of solar power that they don't need to consider the facility's load profile. Some facilities can also change their load profiles to enhance the advantages of solar.
For instance, in a manufacturing facility with multiple processes running, it may be possible to move the energy-intensive activities to the middle of the day, when solar energy output is at its peak and energy costs may be at their greatest.
10.  What Happens If Roof Replacement is Needed?
The solar installer will inspect the roof to see whether it needs to be changed before the PV system is finished. Building owners are typically advised to replace the roof before installing the PV system to qualify for the federal solar tax for roof replacement. However, after installing a PV system, PV firms include in their agreement the temporary removal of the PV system for roof repair.
Contact Coldwell Solar For Commercial Solar Installations
It is essential to consider a few factors before installing a commercial rooftop solar for your business. These factors include the state of your roof, the impact of panels on your roof system, the structure of the roof, load profile, how the panels are attached to your roof system and do the roof structure facilitate the firefighters to put out the fire in case of an emergency.
Coldwell Solar ensures that all the above factors are considered carefully to execute a successful installation. Contact us for more details if you need further information regarding rooftop commercial solar panels.