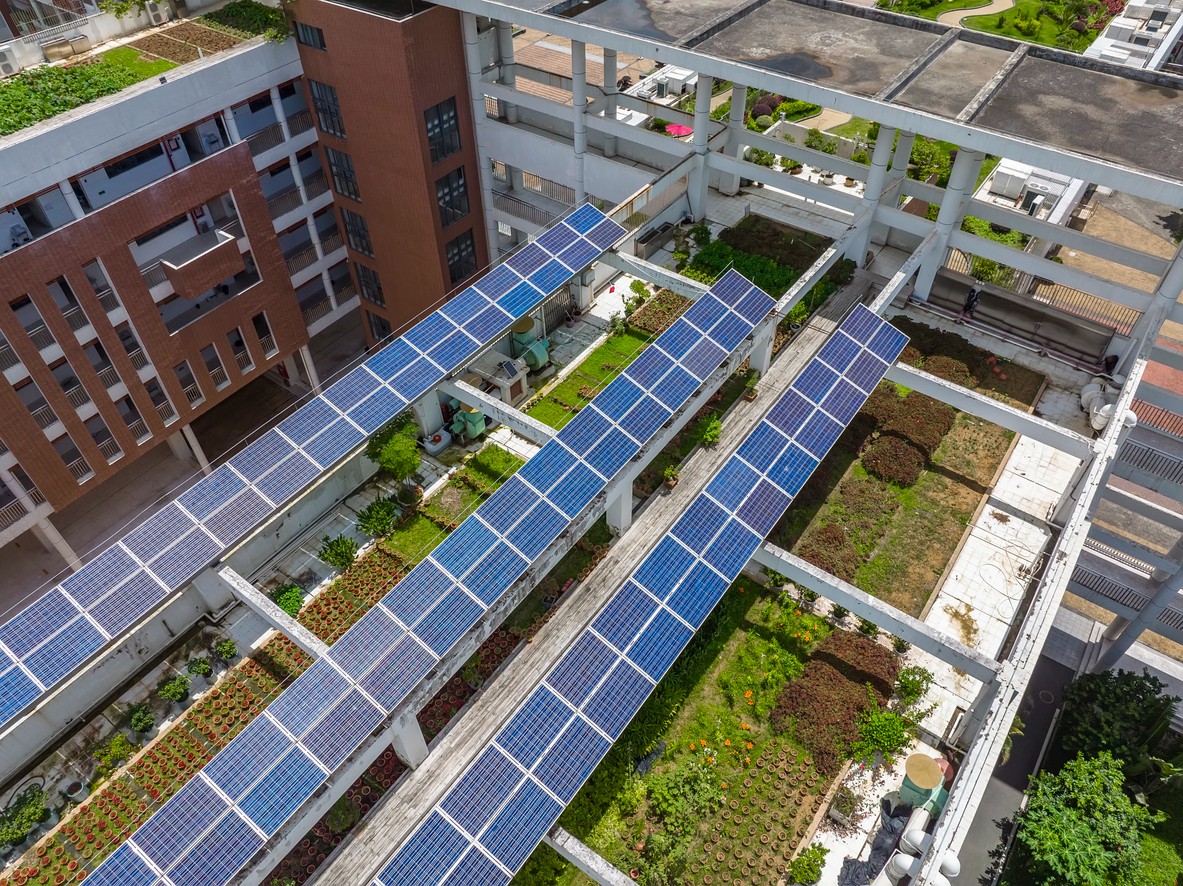 Despite having large parking lots and roof space for solar systems, schools face expensive energy costs. Schools that use solar power save their energy expenses, assist their local communities, and, with battery backup, can even maintain electricity during grid outages.
Sustainable education is saving money and pointing California toward a better future. Coldwell Solar can help if your school's administration is thinking about establishing a solar array.
How to Bring Solar To Your School?
It makes sense that during the past ten years, there has been a significant rise in the number of schools using solar energy in California. Solar panels are a win-win situation for almost every school or school district due to energy cost savings, increased academic and career training opportunities, more financing alternatives, lower emissions to combat climate change and air pollution, and stable backup power.
Here are some considerations to bear in mind if you're prepared to start the installation process:
1. Location
Solar panels require a location that can receive direct sunlight. It is ideal for solar parking structures if you can install solar panels on top of a structure or land with sunlight access.
2. Financing Requirements
Make sure you fulfill the building requirements, local and state restrictions, and incentives for a solar project for your school or university. Also, consider the most effective for your district.
3. Support from the Community, Parents, and Staff
Who will be the most important stakeholder, and have you told them about your plans? Any construction project for a school must involve the community. Starting the project by including members of your community and school might help you gain momentum and pinpoint any early concerns.
Before beginning a solar energy, energy storage, or microgrid project at a school, you must know everything and consider everything regarding the project.
Benefits of Solar For Schools and Universities in California
Solar panels are typically associated with commercial applications. People upgrade their businesses with commercial solar panels to attract new clients with their "go green" initiative and install solar panels on their commercial buildings to pay their electricity costs.
But what happens if solar panels are included in a school or university's design? Solar panel installations in educational institutions are growing in popularity today. Installing solar panels is a fantastic approach for schools worldwide to boost their reputation and future electricity costs.
Nowadays, solar energy is used in practically every business, and well-designed solar panel projects for schools and universities are becoming increasingly popular. Schools and institutions are consequently moving toward sustainability and environmental friendliness.
Additionally, eco-friendly educational institutions may occasionally see an increase in enrollment as well as a greater level of involvement from their students. Schools can profit significantly from solar energy systems. Some of the most important advantages of solar panels for schools are listed below.
1. Solar Panels are a Source of Reliable and Unlimited Energy
Solar power systems provide an unrestricted and dependable energy supply for businesses and educational institutions. Solar energy is an endless source of energy, in contrast to fossil fuels. Universities and schools can get a large amount of energy from solar panels because they are built to function on cloudy days, winter, and partly sunny days.
Universities have large structures containing hundreds of panels that can power a whole campus. You can generate unlimited free electricity by installing more solar panels.
2. University Roofs are an Ideal Place for Solar Panels
Most university roofs can accommodate solar panels. Universities and schools usually have more space and flat structures. They don't have sensitive materials like wooden shakes; you'll find a lot of open space for solar panels to operate to their maximum capacity.
If you want to install solar panels in your educational institution, you can start by speaking with regulatory authorities at your school. Universities and commercial buildings with HVAC and other roofing equipment benefit more from flat roofs.
3. Low Maintenance
Solar panels for colleges and universities also have the key advantage of requiring less upkeep after installation. The glass and frame that shield solar cells are incredibly sturdy and long-lasting. Certain panels can endure hurricanes.
The majority of solar panels are made to survive for at least 25 to 30 years, though they may live longer in milder areas. A university solar array must be inspected regularly, but solar panels last longer in warmer climates. The panels are often unbreakable but can be harmed by wind and other harsh weather conditions.
4. Solar Energy Will Lower the School's Operating Costs
Over the previous ten years, electric costs have increased. Schools and universities have been some of the main victims of these price increases because they utilize a lot of electricity. Fortunately, solar energy is a cheap and widely available energy source, and modern technology and expert installation have increased its accessibility for organizations.
Schools and universities going solar will benefit from low operating costs and can start spending where it is necessary to foster their students' future.
5. Solar Energy Can Increase Enrollment
Students these days are more aware of climate change and want to make efforts to deal with these problems. An educational institution with solar power will attract more students and can have a significant impact on enrollment.
As a result, adding solar panels might increase enrollment at a college or institution. Many contemporary students look for schools that provide environmentally friendly practices, renewable energy, and eco-friendly infrastructure when choosing their educational institutions.
Schools and universities gain more by installing solar panels on their campuses. Solar panels are an environmentally beneficial addition that can also have significant social and cultural ramifications. They are ideal for lowering electricity bills and decreasing costs involved with powering a school's facilities.
6. Solar Energy is an Eco-Friendly Initiative
Schools and universities can generate a lot of goodwill in the community and even among the media by publicly committing to using clean, renewable energy. A school or institution powered by solar energy can always be a great draw in this more environmentally concerned community.
Investors may become more inclined to trust a forward-thinking educational institution, and enrollment levels may rise.
For more recent generations, who have demonstrated a clear preference for green energy, this is more appropriate. A functioning solar system at the prospective educational institution could influence their choice. Additionally, installing solar panel systems in these modern times might improve how the public perceives both schools and educational institutions.
7. No Power Outage During Studies
Solar panels ensure a continued and unlimited energy supply. Even with battery storage, you can power up your school after the sun sets. Schools usually begin in the morning, but if it is a night school or some days students have to stay late, solar panels are an ideal option to cover power requirements.
8. Increase Renewable Energy Sources
A visible solar display on the roof of a school or institution would serve a purpose and could encourage more solar installations in the surrounding area. When people begin to hear more about the benefits of solar energy, it may indicate greater uptake in the area.
Schools and universities may be a big help in this area and can motivate many people to switch to this sustainable and clean kind of energy. By demonstrating solar's benefits and cost-saving, these educational institutions can persuade the communities to adopt it even more.
9. Reduce Carbon Footprint
A solar panel installation is a practical way to lessen greenhouse gas emissions and California carbon emissions. With clean energy goals being carried out globally, every effort to meet the accumulative environmental goals will be greatly valued.
As mentioned above, younger generations have openly shown their empathy for renewable energy and concern for Earth's future. Adopting solar energy is an excellent approach for colleges and institutions to capture the spirit of today's students and make a stand for their sustainable future.
Install Solar Power at Your School with Coldwell Solar
As you can see, selecting solar energy for your school will help you become more independent and environmentally conscious, maintain low utility costs, attract more students, and even give back to the community.
Today, a growing number of educational institutions are attempting to take use of solar energy's benefits. Through reduced utility costs, these colleges and universities can enhance their profitability above and beyond the money saved, which goes toward enhancing the educational and social experiences of students, faculty, and visitors.
However, you should always work with a reputable solar installation firm that will professionally build the solar panels to make them more effective and long-lasting before investing in a solar panel project for school.
Are you prepared to install solar power at your school or university? Get in touch with Coldwell Solar to find out how institutions have identified the best financing alternatives, calculated the highest return on their investments, and sped up the school transition.