Business operations are expensive. The soaring energy rates are among the highest overhead costs that business owners pay. Additionally, relying on commercial power grids subjects businesses to energy cost fluctuations. Sudden cost raises can add significant uncertainty to a business's cash flow management.
Solar panel installation can help lessen the expense load. Solar panels use energy from sunlight to create usable electricity. Incorporating commercial solar power in your business can help offset the electricity costs to a great extent.
You might want to get in touch with a commercial solar contractor soon. Continue reading this piece to learn how they can help transform your business.
Picking the Right Commercial Solar Company
Finding contractors for commercial solar projects is among the most critical steps of the entire process. Trained, licensed, and experienced contractors can help businesses save significant time and money.
The best commercial solar contractor can perform the following responsibilities effectively.
Work with Pacific Gas and Electricity Company (PG&E) to ensure interconnection between your commercial solar panel system and the grid
Walk clients through various financing options for leasing or purchasing
Apply to the suitable PG&E incentive program
Provide information regarding the warranty policy
Help find, choose, and install the most efficient solar system for your business
Create a maintenance and repair timeline
Steps for Choosing a Commercial Solar Contractor
Here are two vital steps for picking a commercial solar contractor for your business.
1.  Read the fine print
Before signing, make sure to read the contract for the installation of your energy solar photovoltaic system. Ideally, you should examine all the maintenance contracts and guarantees. Make sure you receive the final pricing quote in writing. Avoid signing the contract unless you are confident of knowing and understanding the conditions and associated expenses.
2.  Know the Law
Businesses should never put down more than $1,000 or 10% of the total contract price (whichever amount is less). The legislation of the state of California governs this regulation. Make the final payment only after the system is completely installed and working as it should.
Tips for Finding a Commercial Solar Contractor
When finding a commercial solar contractor, the following tips can help:
Select an Experienced Contractor
To find contractors by ZIP Code, go to the California Distributed Generation Statistics database of installers, contractors, and retailers. To find out how much other customers have paid, filter your results by the average cost per watt.
Verify Your Contractor's Information
Reliable contractors hold valid A, B, C-10, or C-46 licenses. Therefore, you should ask to see your potential commercial solar contractor's Contractors State License Board (CSLB) pocket license upon the first meeting. They should also have a photo ID you must check before finalizing your decision. You can visit the Contractors State License Board to confirm the contractor's authorization. Moreover, you should try finding the answers to the following questions:
Does the contractor carry workers' compensation insurance?
Does your contractor have a membership with the California Solar Energy Industries Association (CALSEIA), a trade association for the solar energy industry?
Are there any pending complaints against the contractor with the Contractors State License Board (CSLB)?
Are there any evaluations of the contractor on the Better Business Bureau (BBB) website?
Benefits of Installing a Solar Photovoltaic System for Businesses

1. Reduced Overhead Costs
All business owners are looking for ways to reduce overhead costs. Typically, these expenses incur salaries, operating supplies, etc. When running a business, you need to pay for utilities, property upkeep, supplies, and insurance. Your business' expenditures of electricity are only one of the many significant overhead charges you can minimize.
Similarly, every business requires a stable energy supply. Depending on your workplace or facility, you might utilize electricity for things other than lighting. Switching to solar power is a big step, as it can significantly reduce your electrical bills. Businesses can reduce their electrical overhead by 75 percent on average. That begins as soon as the solar system starts operating and continues at that pace for the remainder of its useful life.
When switching to solar energy, you should first determine if you want to lessen your reliance on the industrial power grid or completely replace it. You will still have some ties with the grid for nighttime and other additional assistance until your business goes solar with a generator backup. No matter how far you push your solar conversion, you will continue to save a lot of money and reduce your overhead costs.
Commercial solar energy also ensures financial security for businesses. It protects you from cost fluctuations and inflation when you are entirely or partially self-sufficient in solar energy. Relying on the commercial power grid puts businesses at the mercy of cost hikes caused by seasonal or supply shortages. Besides, going solar can shield you from rising electrical costs year after year.
You will constantly be aware of your overhead expenditures if the sun powers your private power production. The decision to reduce electrical overheads is entirely up to you. Unless you increase your electricity load, your rate will remain constant.
2. Solar Tax Advantages
Tax advantages are perhaps the main benefit of switching to solar electricity. The transition to sustainable, clean, and efficient solar electricity is supported at all federal, state, and local levels. Additionally, they offer several beneficial financial aid programs and tax breaks for support.
The best part? You do not have to install a specific kind or size of solar panel system in your company to be eligible for these tax benefits. Regardless of the type of system you install, some incentives are guaranteed by government programs meant to promote the switch to solar energy.
The main tax advantages of switching your company to solar energy include the following:
Solar Renewable Energy Credits (SRECs): With this solar energy alternative, you can recoup the cost of equipment installation by using the energy generated by your system. According to legal standards, one SREC is equivalent to 1,000 kWh. They compel power companies to take part and recognize each SREC you generate with solar equipment.
Accelerated Depreciation: Your solar energy equipment is also eligible for accelerated depreciation. This is accomplished through a different federal program, the Modified Accelerated Cost-Recovery System (MACRS). The MARCS initiative allows you to write off your whole solar panel system in the first year, as opposed to the conventional equipment depreciation tax deductions that typically extend over the entire life of the items. Your ability to finance your solar power system and cash flow both considerably improve as a result.
26% Federal Investment Tax Credit (ITC): With this tax break from the US federal government, you can receive a 26% rebate on the overall price of your commercial solar power system. For instance, you are eligible for a $5,200 tax credit if you invested $20,000 in your solar panel installation. Additionally, the program has no cap, so you can spend as much money as you like on solar energy and still qualify for the 26% rebate. After 2022, the benefit amount does, however, decline. After 2023, the ITC drops to 22% and will continue to lower over time.
3. Longevity and Sustainability
Even today, many business owners remain unfamiliar with the fact that commercial electricity is a commodity. It is bought and sold as per supply and demand. Not to mention, businesses are subject to user tariffs and current market conditions when they draw power from the commercial grid. Additionally, future expenses are not covered by insurance due to the unpredictability of the future.
What else? Fossil fuel dependence will likely decrease in the upcoming years. The emissions and carbon footprint of coal and gas-fired electrical producing facilities will be more strictly regulated. This means fossil fuel generation will be more expensive, and consumers will pay more.
Hydroelectricity is the primary energy source in regions with a sufficient water supply to turn generators. However, the increased hydroelectric output may result in overflooding if the land is expensive. The output of hydro plants is constrained and frequently already at its maximum in many sites.
Nuclear power facilities and other alternative electrical sources face uncertain prospects. The future of nuclear power generation is dim due to the unpredictable nature of accidents and the issues with nuclear waste. The sun is the only remaining virtually untapped renewable energy source. The future of low-overhead electrical production lies in solar energy.
4. Energy Independence
Another significant benefit of switching to solar power is independence from sources of commercial energy supply. Your dependence on your neighborhood power provider can be reduced or eliminated via a commercial solar system installation. Besides reducing your overhead costs, it can guarantee a consistent electricity supply. This is not related to what happens to the commercial grid.
Commercial power outages are widespread in many places. You might work in an electricity-sensitive field, like cold storage, where you can't stand a power outage. Severe storms frequently cause power outages in several cities across the US. No matter what happens to your commercial power source, you will always have a reliable electricity supply when relying on your commercial solar panel system.
Solar panel systems installed and appropriately configured are 100 percent reliable. Solar panels don't have moving parts, unlike machinery or generating units. Simply said, you have a network of interconnected solar panels that use the photovoltaic process to turn the sun's rays into live alternating current. You independently generate the same current you receive from your commercial power provider.
You can use a battery system to store electricity when using solar power. Power is always available when you need a backup, like at night or in fading light.
Commercial Solar Services from Coldwell Solar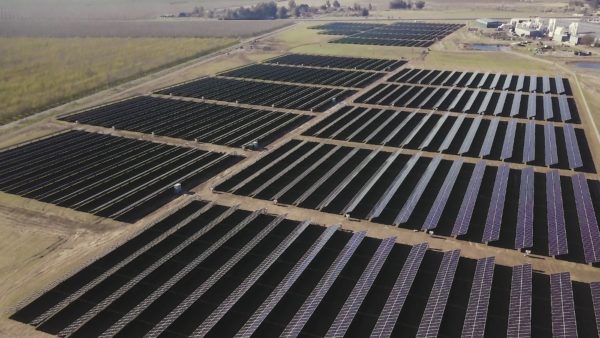 Besides improving costs, installing a commercial solar system can help reduce your business's carbon footprint. It provides your company with clean and sustainable electricity, after all. So if your business is on a tight budget and wants to contribute to the wellness of the atmosphere, switching to commercial solar is excellent. With years of experience, you can trust Coldwell Solar as your commercial solar contractor. Contact us to get started on your commercial solar project today!